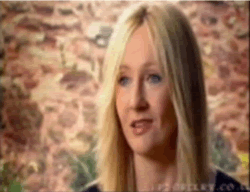 I just uploaded two short interviews we missed from 2006: Jo's response when
Lord Voldemort was voted "Best Villain"
in a contest, and the
ITV show on Robbie Coltrane
where Jo talks briefly about the role of Hagrid.
The most interesting comment refers to Voldemort. Rowling says that in book 7 Voldemort will finally get the "legroom" he has been "aching" for. Thank you to Julia Crimmins for the reminder.